Luxury Sheet Vinyl in Melbourne, FL
Choose from numerous appealing options in luxury sheet vinyl at our reputable flooring store. We offer a wide array of products that include vinyl plank, wood vinyl plank, and luxury vinyl tile flooring. Take advantage of the many textures and prints available in this resilient flooring.
Modern vinyl has been improved to offer longer wear. The most appealing benefit of vinyl flooring is the flexible surface that prevents breaking or splitting. The soft give also makes these types of floors more comfortable underfoot.
Durable Vinyl Plank Flooring
Enjoy the warmth and beauty of real hardwood in basements, laundry rooms, and bathrooms without worrying about water damage. Advances in vinyl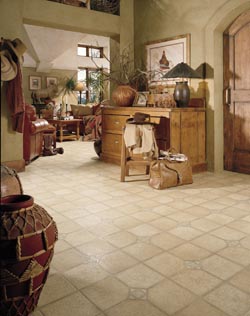 plank flooring mean they are designed with the natural-looking wood tones and grain patterns of genuine wood planks. These types of flooring also feature texture that mimics the appearance of real wood planks.
Purchase long-lasting vinyl in planks that are different widths for an even more authentic wood look. There are options designed to appear like walnut, oak, and other more exotic woods. Vinyl plank flooring also offers quick and easy installation. In the unlikely event that a plank becomes damaged, it can be easily replaced for a seamless look.
Attractive Wood Vinyl Plank for Your Home
Wood vinyl is available in both sheet and plank options. No matter which type of vinyl product you choose, your floor will be resilient and easy to keep clean. This flooring is also a great choice for homes with pets, because it resists scratches from pet claws.
The best way to maintain the attractive appearance of your wood vinyl plank flooring is to simply keep it clean. While the surface of vinyl flooring products is long wearing, dirt and debris can build up and cause wear and tear if it is not removed. This type of flooring is resistant to water, but it is a good idea to wipe up any spills as soon as possible to prevent moisture from seeping into the seams.
Choose Long-Wearing Luxury Vinyl Tile
With all of the options available in luxury vinyl tile, you are able to find just about any color, texture, or pattern that matches the décor in your home. Manufacturers are able to accurately replicate materials such as natural stone, including the texture and subtle changes in color. Let us help you find the look you want with the durability you need!
---
Contact us to learn more about our resilient vinyl flooring options. We serve Melbourne, Indialantic, Viera, Suntree, and Palm Bay, Florida.