The Best Laminate Flooring Selection in Melbourne
Take your home to the next level with a well-deserved style upgrade. Choose laminate flooring from Great Southeast Flooring America for your home. Not only are laminate floors durable, but the low price means this outstanding flooring option is suitable for any home improvement budget. A laminate floor installation can accommodate a room's existing décor or become the foundation of your new choice in style.
Our showroom in Melbourne, FL, has countless types of flooring in stock and is ready to order, including laminate wood flooring and laminate tile flooring options. You'll find everything you need to transform your house into a stylish home. The affordability and ease of installation of laminate flooring make it suitable for any project, and we offer start-to-finish support from flooring sale prices to guaranteed laminate flooring installation.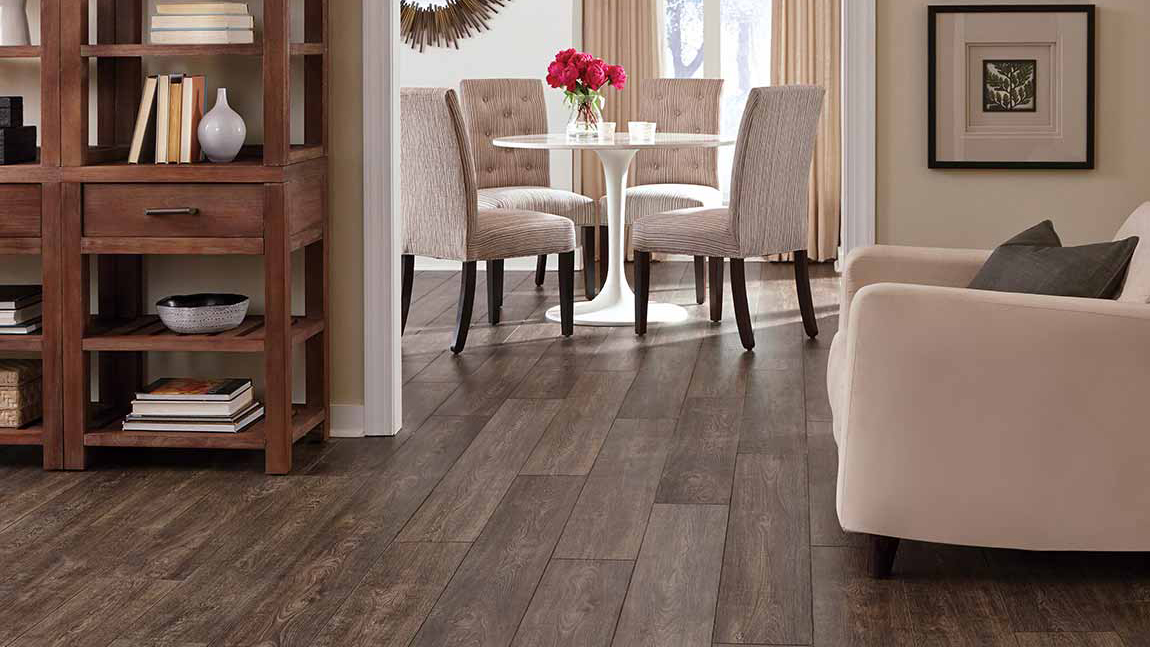 Laminate Flooring Types
When considering which type of laminate may be the best for you and your home, it is essential to understand the different types available in our showroom. Laminate flooring is manufactured using either high-pressure or direct-pressure methods. Under the direct-pressure method, all four layers are fused at once. This method produces the most affordable and common types of laminate flooring. The high-pressure method is similar, though the layers are fused one at a time and with higher amounts of weighted pressure and heat to produce the most durable forms of laminate. This method is ideal for commercial spaces. Learn more about our laminate flooring options:
Laminate Wood Flooring

: If you dream of beautiful oak floors but your lifestyle and budget are incompatible, wood laminate flooring is the perfect substitute. This flooring combines the look and feel of natural wood with all the benefits of laminate flooring.

Laminate Tile Flooring:

While traditional tile flooring is an elegant addition to any project, many customers find tile laminate flooring better meets their budget and functional needs. Tile laminate is a popular choice for bathrooms, offering the tile aesthetic with a waterproof & scratch-proof seal.
The Benefits of Laminate Flooring
Our laminate selection comes from the best brands and manufacturers in the industry, so you know you are getting quality flooring. In addition, laminate flooring provides several unique advantages that make it a go-to flooring option for any application, including:
Manufactured to be highly

durable and resilient.
Hygienic

and easy to keep clean.

Realistically mimics

hardwood and tile.

Scratch and

water-resistant

.

Affordable

and less expensive than its traditional alternatives.

Comes in a

variety of styles and colors

.
Keeping Your New Laminate Floors Clean
When cleaning and maintenance, a laminate floor is quick and easy. A damp mop or cloth can easily wipe out most spills and messes. Give your laminate floor a quick sweep or vacuum if you notice any dirt or debris building up. It's as simple as that - no polishes, waxes, or expensive products are necessary when you invest in this hassle-free flooring. Easily protect your flooring so it lasts for years. You can also keep your laminate in pristine condition with these helpful tips:
Wipe up spills as soon as they occur.

Place a mat at the front and back doors to collect dirt

Use floor protectors under the legs of couches, tables, and chairs to ease the weight.

Pick up furniture that needs to be moved, instead of sliding it across the floor.

Make sure your pets' nails are trimmed.
Professional Laminate Flooring Installation
Looking for a low-cost solution to your flooring needs? Laminate flooring delivers a luxury look at a price that fits any budget. Each of these materials is built to last for many years to come. When you choose laminate, you can trust you will not have to replace your flooring. You will enjoy beautiful floors in every room without stress. No matter your needs, you will find that laminate flooring is the perfect fit for your home. This affordable and durable material offers an easy solution to your design goals. Because laminate is built to last, it will hold up to years of wear and tear. Whether you drop a heavy object or spill a hot liquid, your floors will stand up to nearly anything.
Trust us to install your new laminate floors! Instead of spending the time and resources looking for a qualified installer, use our professional laminate flooring installation service. Our flooring contractors have the skills and experience to install laminate floors in your home properly. In addition, we guarantee the quality of our products and services. If you are unhappy with your new floors, just call us within 30 days of your installation. We'll replace it with flooring of equal value. That is our Ultimate Confidence Guarantee! Enjoy fast, affordable, professional flooring installation that ensures your complete satisfaction.

Contact us to learn more about our luxury vinyl selection. We proudly serve customers in Melbourne, FL, and the surrounding communities.