Our 2021 Scholarship Program Will Total $45,000 In Scholarships Awarded
16 Area Schools Will Each be Awarded $1,000 Scholarships in 2021
We at Great Southeast Flooring America are committed to the community that has supported our business over the years. Since 2017, the Flooring America Scholarship Program has helped deserving college-bound seniors at Brevard County schools. We expanded the program in 2020 to include 16 area high schools and $16,000 in scholarship funds. It's both an investment in our community's future and a way of saying "thank you."
Since setting up the program, we've met many outstanding young people who have received these awards, which total $45,000 to date. We look forward to meeting and helping many more.
Starting each February, Students wishing to apply for a scholarship should pick up an application at the Guidance Counselor's office at their high school.
---
How it works
This year, Great Southeast Flooring America is awarding a $1,000 scholarship to one deserving student at each of these 16 Brevard County high schools:
Astronaut, Bayside, Cocoa, Cocoa Beach, Eau Gallie, Edgewood, Heritage, Merritt Island, Melbourne, Palm Bay, Rockledge, Satellite, Space Coast, Titusville, Viera and Westshore.
Eligibility
To be considered for a scholarship, students must be in their senior year and on track to graduate in 2021. They must be enrolled in one of the 16 high schools listed above, and planning to attend a four-year college or university for the 2021 fall semester.
Students interested in earning a Great Southeast Flooring America scholarship should also be able to demonstrate traits such as high character, integrity, academic achievement, sportsmanship, citizenship and leadership.
A 500-word essay on "how I would use the $1,000" is also required along with a teacher recommendation.
How to apply
Download an application below. You may also obtain an application from your school's guidance counselor or at the Great Southeast Flooring America location at 2780 N Harbor City Blvd., Melbourne, FL 32935.
Deadline
The application, essay and teacher recommendation must be submitted to your guidance counselor by April 15, 2021.
---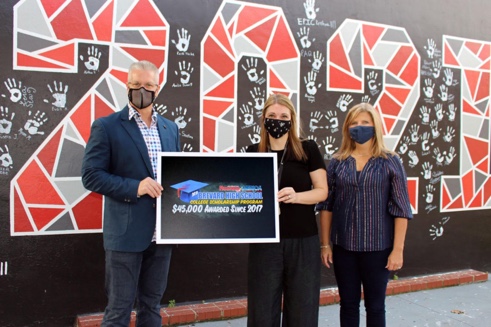 Blog
Flooring America Scholarship Program Totals $45,000 Awarded in 2021
---
Our Scholarship Program Through the Years
Click to play our videos on YouTube:
---
---
---
Our recipients in 2019 were Chancellor McGriff of Viera HS, Nina Reddy of Satellite HS, Rese Clark of Rockledge HS, Ryan Brown of Palm Bay Magnet HS, Jordan Tomberlin of Merrit Island HS, Madison Goode of Melbourne HS, Anna Hinkle of Eau Gallie HS, Alyssa Braneky of Cocoa HS, Thalia Fuste of Cocoa Beach HS and Karley Myers of Bayside HS. Congratulations to these 10 outstanding individuals we were pleased to help. We're looking forward to helping many more in the coming year. Maybe you.
---
In the News