Carpet Flooring in Melbourne, FL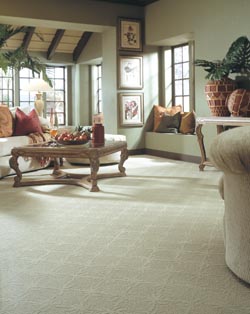 Give your floors a high-end treatment for low prices with our carpet flooring in Melbourne, FL. Carpeting is perennially popular for many good reasons, such as its softness, durability, and affordability. Plus, this type of flooring is available in a multitude of brand names, colors, and patterns.
In the showroom at our carpet store, discover carpeting that adds life to any room in your house. Ask our sales and design professionals to help you find carpet floors you will love.
Carpet Options in Brands, Colors & Patterns
Let us guide you in finding the perfect carpeting for your living room or bedroom. To begin with, our sales professionals ask questions about your preferences in colors and patterns, how many people and pets live in your house, and your budget. Then, we can go to work to present you with samples that strike your fancy.
Our best-selling brand names each have their own advantages and allure. It is our job to present you with choices that will align with your style and budget. Choose from:
EnVision SD Pet Solutions - This brand is prized for its high performance. Armed with an Advanced Repel System, EnVision SD Pet Solutions repels stains and soil so that your carpeting is 30% cleaner. This system keeps carpets stylish and beautiful, adding excitement to your decorating scheme.

Tigressa – Offering two different lines, Tigressa™ is valued for its softness and strength. Benefitting greatly from technology, Tigressa SoftStyle features advanced yarn engineering, which makes it pleasing to touch, yet durable. The other line is Tigressa Cherish, which uses nature for inspiration. This results in glorious colors that complement your home.

Resista® - Combining softness with durability, Resista offers an exceptional warranty to buyers. Receive a 10-year, no-exclusion warranty for all food and beverage stains. This carpeting is ideal for busy families. Other features include rich, bright colors and fade resistance.
Choose Professional Carpet Installation for Longevity
For your convenience, our flooring store provides installation from certified technicians. Our installers know the best methods and have the right tools to lay your new carpeting, so seams match and the fabric extends to the corners of the room. The best way to ensure that your new carpeting looks handsome and lasts for a long time is with our professional carpet installation.
To go along with our flooring and our installation, we offer the industry's strongest warranties. These guarantee our customers that they are buying the best products and services. If you have problems or concerns, our flooring store makes things right for you.
Call 321-241-2670 or come in today to get guaranteed carpet flooring on any budget! We proudly serve the communities of Melbourne, Florida, and the surrounding area.