Hardwood Flooring in Melbourne, FL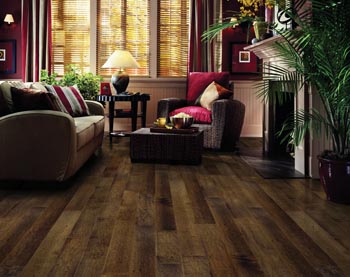 Are you tired of walking on outdated floors? Does your interior décor need a new look? If you're looking for superior hardwood flooring for the best value then look no further than Great Southeast Flooring America. At our Melbourne flooring store, we feature an assortment of hardwood flooring options that enhance the look of your property, including engineered hardwood flooring and solid hardwood flooring. What sets Great Southeast Flooring America apart is our commitment to being your knowledgeable flooring expert. We'll tell you about different features, listen to your design ideas, and make your shopping experience stress-free and fun! To finish the job, we offer our trusted professional hardwood installation services for long-lasting results. Stop by our Melbourne, FL, showroom to view our hardwood flooring selection and discuss your project with our friendly flooring professionals!
Types of Hardwood Flooring at Our Local Flooring Store
When it comes to your interior décor and lifestyle, we help you find hardwood flooring to match your specific needs. Thanks to our wide selection of hardwood floors, you'll have plenty of opportunities to see which type of hardwood floor is best suited for you and your home. View our stunning collection of hardwood floors that come in various colors, finishes, grains, and textures. Whether your style is rustic, contemporary, modern, craftsman, traditional, Victorian, or bungalow, our flooring store is sure to have a surface that captivates your attention. Learn more about the two types of hardwood flooring available at our Melbourne, FL, location.
Engineered Hardwood Flooring
Add a touch of luxuriousness to your home at an affordable cost with engineered hardwood flooring. Engineered hardwood flooring is constructed of thin sheets, or piles, of wood that are bonded together to form a single dense plank. What makes these bonded planks so advantageous is the way they're structured. Each pile is laid in an opposite direction, which allows them to become moisture-resistant. The wood won't crack or bend during varying changes in temperature and moisture. This makes them particularly useful in moisture-prone areas, such as the kitchen, bathroom, and basement. This moisture resistance is especially advantageous for Melbourne's humid environment.
Solid Hardwood Floors
One of the most popular and desired surfaces is timeless solid hardwood floors. From the earthy tones of birch to the natural elements of walnut, wood flooring can complement any style of room. If you're a homeowner who likes to change the look of your space every few years, then solid floors are an ideal surface. Find a grain, color, or finish that fits your style today, and ten years from now, you can choose a new grain, color, or finish. These floors are also able to be recoated and refinished multiple times through their lifespan. This gives an added edge to any homeowner who is keen on keeping their home updated with the times.

Benefits of Hardwood Flooring to Upgrade Any Space
There are so many things you can do to increase the property value of your home, but one of the most popular ways to increase its value is to add hardwood floors. The installation of new hardwood floors is sure to give you a leg-up in the home market. Even if you're not thinking about selling your home now, hardwood floors are a great investment for the future. When you choose us for your flooring needs, you're getting floors from reputable hardwood brands, such as Aquadura, Downs, and Floorcraft. Discover all the advantages of choosing hardwood floors for your home:
Significantly enhances homes with warmth and beauty

Increases the property value of your home or business

Custom design options for a one-of-a-kind look

Ability to refinish over its lifespan

Strength & durability in high-traffic areas

Ability to last a lifetime with proper care
How to Clean & Care for Hardwood Flooring
Keeping your hardwood clean is a breeze when you follow a regular maintenance routine. Our flooring professionals will walk you through the maintenance process for your specific type of floor when you visit our showroom. Follow these simple hardwood care tips for long-lasting luster:
Sweep or vacuum regularly to remove dirt buildup

Wipe up spills promptly with a clean cloth

Dry mop using a manufacturer-recommended floor cleaner

Always ask a professional before using any harsh chemicals as it could damage the finish on your floors
Trust Our Professional Hardwood Flooring Installation
You've finally decided on what type of hardwood floors you want and now it's time for installation. Trust our experienced installation professionals to handle your hardwood flooring installation with care and precision. Our flooring specialists have years of experience installing hardwood, so you can rest assured you'll receive gorgeous and durable hardwood flooring that lasts. We believe so strongly in your satisfaction that we back each hardwood flooring installation with our Ultimate Confidence Guarantee. This offers you peace of mind that in the unlikely event you should experience any issues with your installation, we will replace them at no extra cost to you. Ready to learn more about your hardwood flooring options?
Contact us today to start your hardwood flooring renovation! We proudly serve Melbourne, FL, and the surrounding communities.