Wide Selection of Flooring in Melbourne, FL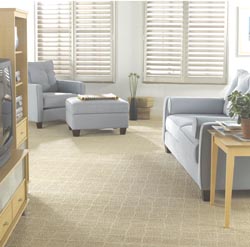 Finding the right flooring material is simple when you shop at Great Southeast Flooring America. With our diverse collection of flooring in Melbourne, FL, as well as our extensive product knowledge and helpful services, you'll discover the right style in no time.
Replacing the floor is one of the most cost-effective ways to transform a room. Since the floor is one of the largest features of your room, it has a big impact on interior design. An out-of-fashion or damaged floor drags down the overall appeal; a gorgeous and resilient floor boost not only the room's beauty but also the entire property's value. Visit our store to explore the many options available to you and give your room a makeover.
A Surface for Every Style
At our flooring store, we offer a wide selection of materials to meet any style or design expectations. Whether you're looking for something timeless or something trendy, you'll discover a multitude of options in our showroom. Our selection includes:
Hardwood
Ceramic Tile
Porcelain Tile
Luxury Vinyl Planks
Waterproof Vinyl
Laminate
Carpet
Area Rugs
Not sure what kind of flooring best matches your design goals? We're here to help; just ask our staff for a recommendation. Our team member will ask about your stylistic preferences, practical needs, and price range. Based on the details you provide, we'll narrow your search down to the flooring brands that best suit your project.
Maintenance Knowledge You Can Trust
Proper maintenance is crucial for extending the lifetime of your floor, no matter what style you choose. However, with so much conflicting information out there on the internet, it can be hard to determine what kind of care is necessary for your particular floor.
Talk to our team to get the insight you need. It's our job to know the products we sell inside and out. We're happy to explain the recommended maintenance and cleaning needs for all the surfaces in our showroom.
A New Floor in No Time
Professional flooring installation is also available through our store. Our installers are trained to work with all the floor styles we sell, from hardwood to carpeting. Likewise, they pay careful attention to detail throughout the process and make sure to adhere to all relevant warranty standards and guarantees. Best of all, they work quickly; you'll have a new floor to enjoy in no time at all without having to lift a single finger.
Contact us to learn more about our wide selection of flooring and the various services our team offers. We proudly serve clients from throughout Melbourne, Florida, and the surrounding areas.