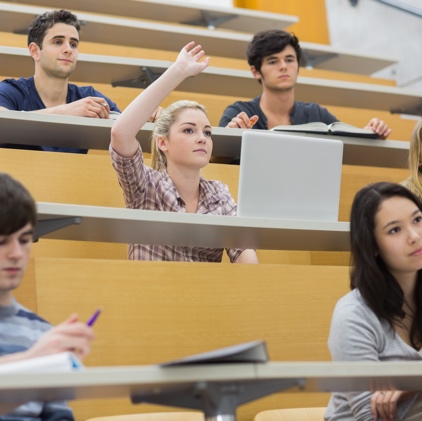 Program expands as Great Southeast Flooring America offers a total of $10,000 in college scholarships.
Brevard County, Florida (Feb. 26, 2019) – Great Southeast Flooring America has expanded its scholarship program and is now providing $10,000 in scholarships to college-bound students at 10 local high schools. In its third year, the annual program began for seniors graduating Satellite High School. It grew to include Rockledge High the following year.
In addition to Satellite and Rockledge, this year's participating high schools also include Bayside, Cocoa, Cocoa Beach, Eau Gallie, Merritt Island, Melbourne, Palm Bay and Viera.
"Young people in our community have so much to offer and many of them are seeking higher education," said Nelson Green, owner of Great Southeast Flooring America. "The educational system in Brevard County has been so helpful to us – to me, to my family and many working at Flooring America – and we want to assist them in any way we can. That's why we're providing these scholarships. It's something we're very passionate about."
One student from each of the 10 participating schools will receive a $1,000 scholarship. The Great Southeast Flooring America college scholarship program will announce this year's winners in May during the school's end-of-year award ceremonies.
A student's eligibility is based on a teacher's recommendation and a 500-word essay on how the scholarship money will be used. The recipient should display high academic achievement, sportsmanship, citizenship, leadership and integrity.
There are several criteria for receiving one of the 10 available scholarships. First, the student must be headed to a four-year university the following year. He or she must submit a 500-word essay on "how I would use the $1,000." A teacher recommendation is also required.
Interact Club Members will receive special consideration in the selection process. Interact is Rotary International's service club that helps young people ages 12 to 18 develop leadership skills. Interact clubs are sponsored by individual Rotary clubs and offered through local high schools.
Any student interested in a scholarship should contact his or her guidance office to receive an application, which must be submitted back to the office by April 26 with the essay and recommendation. An application is available for download at www.southeastflooringamerica.com/custom/1138af/scholarship.
"We recognize that every contribution helps," Green said. "By the time a student pays back each dollar of a student loan, it becomes roughly $2 with all the interest applied over time and adjusting for inflation. We want to help reduce that cost."
---
Flooring America Scholarships in the News
Local Recipient Discusses How it Helped Her College Career
---
What's your next project? Email us to get started