Great Southeast Flooring America expands scholarship opportunities for local high school students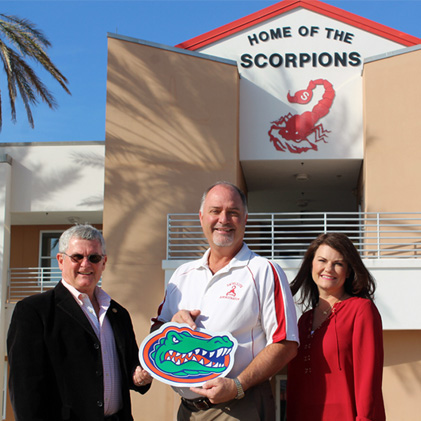 Nelson Green, owner of Great Southeast Flooring America (far left) launches new scholarship for Satellite High School students preparing to attend the University of Florida. Pictured with Nelson are Mark Elliott, Satellite High School principal, (middle) and Jane McDermott, Satellite High School guidance counselor.
---
Annual $1,000 scholarship now offered at both Satellite and Rockledge high schools,
available to students attending college in Florida or out of state.
Brevard County, Florida (April 18, 2018) – Brevard County-based Great Southeast Flooring America is again bestowing a scholarship upon a selected student at Satellite High School, and has this year added a scholarship for a student at Rockledge High School. The $1,000 scholarships will be awarded annually in May and are designed to help offset some of the expenses for students attending college next year.
"We've always had a special regard for high schools in our area, especially Satellite High School, where I and several other Greens have graduated," said Nelson Green, owner of Great Southeast Flooring America. "In fact, there are five of us at Flooring America who attended that school. This is our way of lending a hand to help a couple of important institutions in our community."
A student's eligibility is based on a teacher's recommendation and a 500-word essay on how the scholarship money will be used. The recipient should display high academic achievement, sportsmanship, citizenship, leadership and integrity.
Mark Elliott, principal of Satellite High School, praised Great Southeast Flooring America as a consistent advocate of the school over the years. "We deeply appreciate the support we get from businesses in the area, and Flooring America has been especially faithful in helping us out," he said. "We want to thank Nelson for thinking about our students and their academic futures."
Rockledge High Principal Victoria Hickey expressed similar appreciation. "We were very excited to hear about the scholarship offer this year," she said. "Our students work hard to get into college and it's so nice to have an area business help out with the cost. Thank you, Flooring America."
In addition to expanding the scholarship opportunity to two high schools, Flooring America also has expanded eligibility. While last year's scholarship was reserved for students planning to attend the University of Florida, it now applies to any in- or out-of-state school.
"We really wanted to open this opportunity up for any student planning to further his or her education," said Green. "We're pleased to be able to expand the scholarship and help out an additional student this year."
Interested students are asked to submit an application and the accompanying essay by May 15. The schools will announce the winners during their awards ceremonies at the close of the school year.
---
Nelson Green owner of Great Southeast Flooring America, presents Rockledge High student Caitlyn Roland with a $1,000 scholarship during the school's 2018 awards ceremony.
Chris Green, vice president and general manager of Great Southeast Flooring America, is at the 2018 award ceremony for Satellite High School where he presents graduate Kamryn Palmer with a $1,000 scholarship.
---
---
What's your next project? Email us to get started