Flooring America Scholarship Program: Meeting Such Quality Students is a Big Payoff for Us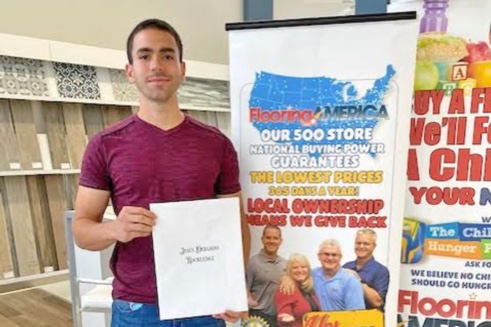 Jesus Delgado is one of the Flooring America Scholarship recipients for 2021. Jesus immigrated from Cuba with his family eight years ago. He plans to study mechanical engineering at the Florida Institute of Technology.
We've donated $45,000 so far to help college-bound senior with expenses
By Nelson Green
Owner of Great Southeast Flooring America
As we gaze into an uncertain future (futures are always uncertain), it's important to have some hope that the next generation will grab the baton and run well. The recipients of the Flooring America Scholarship give us that hope.
We just completed the fifth year of Great Southeast Flooring America's College Scholarship Program that provides $1,000 awards to graduating seniors at 16 Brevard Public Schools. We've been doing this since 2017, and have awarded a total of $45,000 to graduating seniors planning to attend a college or university.
It's one way Great Southeast Flooring America can express appreciation to the community for supporting this business throughout its long history.
One distinct payoff we at Flooring America enjoy every year is the opportunity to meet the graduates who receive these scholarships. It's such a privilege to make their acquaintance when they visit the store to pick up their checks. These are some cheerful, impressive young people who express an abundance of gratitude.
Among the students' prerequisites for applying is a 500-word essay on how they intend to use the money. We always look forward to reading these, because they display so much depth of character and outline such worthy goals. Many of the students are involved heavily in volunteer activities aimed at helping others. And some of them come from challenging backgrounds themselves.
These young people are pursuing a number of different career paths: pre-med, engineering, law, nursing and many others. Jesus Delgado, a graduate from Rockledge High School, will use his scholarship money to help defray expenses at the Florida Institute of Technology in Melbourne, where will study to be a mechanical engineer. Jesus and his family came to the United States from Cuba eight years ago in search of a better life.
"Here, there's a large amount of opportunity, the American dream mentality that people have," he said. "I'm very thankful to be in this position right now." One strong motivation for academic success is his desire to help his parents and repay them for their many sacrifices over the years. "They really struggled a lot and worked hard just to keep the family going, supporting me financially," Jesus said. "I try to reciprocate, dedicating myself to being the best person I can."
Other recipients have shown similarly high levels of character. Safia Motala of Heritage High immigrated from a small town in India. She achieved consistently strong grades and performed community service, while also functioning as a translator for her parents. Another recipient, Darin Myers of Merritt Island High, traveled to Thailand, Ecuador, Australia, France and several other countries with a mission group to help with home-building projects. The list goes on and on.
The graduates will be using their $1,000 to cover various college expenses. For example, one student said she will finally be able to buy a laptop computer after going through the entire pandemic lockdown without one (no small feat).
So, we're delighted to award scholarship money to the following students:
● Aspen Delano of Astronaut High
● Zyon Hayden of Bayside High
● Kyle Loi of Cocoa Beach Jr./Sr. High
● Kiona Cobb of Cocoa High
● Jordan Giuliani of Eau Gallie High
● Justin Cook of Edgewood Jr./Sr. High
● Safia Motala of Heritage High
● Josephine Mares of Melbourne High
● Darin Myers of Merritt Island High
● Abigail Perez of Palm Bay Magnet High
● Jesus Delgado of Rockledge High
● Madison Simpkins of Satellite High
● Sarah Joyner of Space Coast Jr./Sr. High
● Caleb Phillips of Titusville High
● Natalie Dunn of Viera High
● Tyanna Jeter of West Shore Jr./Sr. High
Great Southeast Flooring America wishes you all best in your academic pursuits … and beyond. You make all of us proud.