Flooring America Scholarship Program Totals $45K Awarded in 2021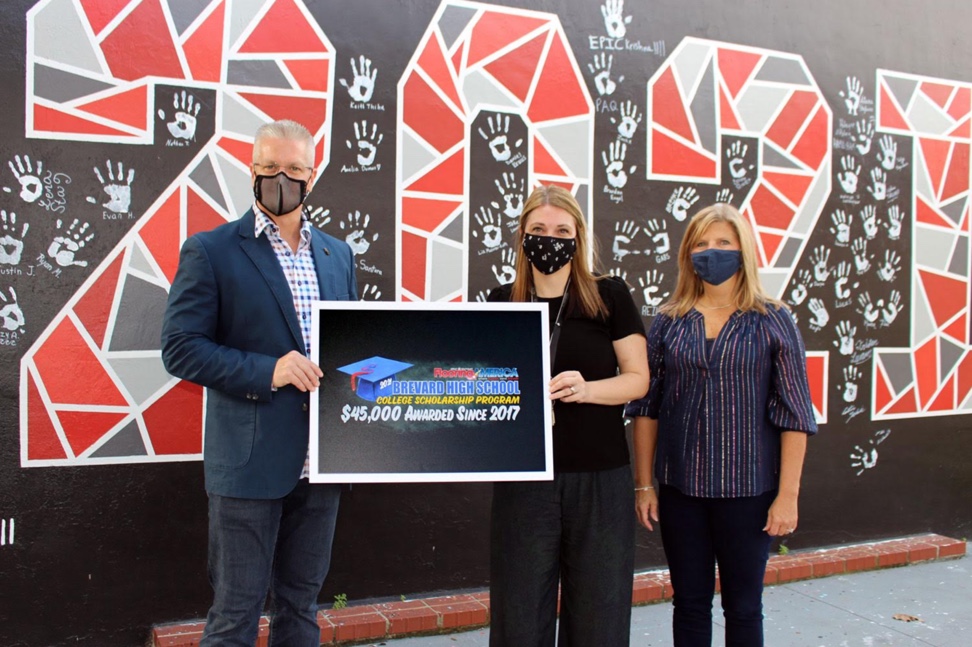 From left, Chris Green of Great Southeast Flooring America announces this year's scholarship program with Edgewood Jr/Sr High School Principal Jackie Ingratta and guidance counselor Kristi Cooper.
Act fast: April 15 is the deadline to apply for 16 awards of $1,000
Call it an example of "paying it forward." Brevard County schools have benefited Great Southeast Flooring America's Green family and the store's annual scholarship program is passing along some of that benefit.
"Five of our family members who work at Flooring America graduated from Satellite High School and some of us have gone on to receive higher education," Chris Green, president of Great Southeast Flooring America. "That's one big reason we're so glad to help out area students. We want as many people in our community as possible to succeed."
This is the fifth year for Great Southeast Flooring America's College Scholarship Program that grants $1,000 awards to graduating seniors at Brevard Public Schools. Once this year's winners receive their checks, the program will have provided $45,000 to students seeking to attend a college or university.
"We at Flooring America look forward to doing this each year," Green said. "We get to meet some of the fine young people who will be future leaders. It's a way we can help make the community stronger."
A senior pursuing higher education from each of the 16 Brevard Public Schools high schools will receive the check during award ceremonies at the end of the school year.
The student must complete an application, write a 500-word essay on how he or she will use the money, and be recommended by a guidance counselor or teacher. Recipients must display high levels of leadership and overall integrity. That includes academic achievement, citizenship and sportsmanship.
Even with the attendant difficulties of the COVID-19 lockdown in 2020, Great Southeast Flooring America awarded its 16 students at the end of the school year.
"The pandemic lockdown was obviously a challenge last year," Green said. "But we got creative and kept the program going, awarding all 16 of the students despite the challenges."
Any students who are interested should download and complete the application on the Great Southeast Flooring America website. Go to www.southeastflooringamerica.com and click the "Learn More" button over the scholarship graphic near the top, then submit the application to your school's guidance counselor office by April 15.
Here are the eligible schools:
Astronaut High
Bayside High
Cocoa Beach Jr./Sr. High
Cocoa High
Eau Gallie High
Edgewood Jr./Sr. High
Heritage High
Melbourne High
Merritt Island High
Palm Bay Magnet High
Rockledge High
Satellite High
Space Coast Jr./Sr. High
Titusville High
Viera High
West Shore Jr./Sr. High
"If you're a college-bound senior in one of these schools or if you know somebody who's a good candidate, don't hesitate to take advantage of this opportunity," Green said.