THE GREAT SOUTHEAST FLOORING AMERICA 2020 SCHOLARSHIP PROGRAM
Great Southeast Flooring America is pleased to expand its College Scholarship Program to 16 area high schools and $16,000 in scholarship funds. It's a way to say "thank you" and support the community that has been so good to us throughout the years.
Get Details & Application
---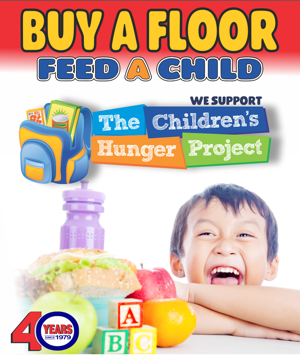 Buy a floor…feed a child!
One hungry child is too many! Great Southeast Flooring America is supporting the Children's Hunger Project, an organization that assists Brevard County elementary students who are at risk of hunger and malnutrition.
When you buy a floor from Flooring America, we'll make a donation in your name that will feed six children this weekend.
Here's why that's so important. More than 50 percent of schoolchildren in Brevard County rely on free- and reduced-cost meal programs. But those programs aren't available on weekends, which means some children may not have enough to eat during those days.
The Children's Hunger Project is working to fill the gap. Each Friday, the students get backpacks they can bring home for the weekend. Inside are non-perishable food items: canned ravioli or rice with chicken and vegetables, milk, juice boxes, breakfast bars, cereal.
The goal is to give the kids the proper nutrition on weekends so they can return to school Monday, prepared to focus and learn.
It's another way Great Southeast Flooring America is working to serve the community that has helped the business thrive for over 40 years. Please join us!
---
Great Southeast Flooring America to Provide 10 Scholarships to Students at Participating Brevard County High Schools
Program expands as Great Southeast Flooring America offers a total of $10,000 in college scholarships. Read more...
---
Flooring America Scholarships in the News
Local Recipient Discusses How it Helped Her College Career
---
What's your next project? Email us to get started