Tigressa Cherish Carpet: the Carpet You'll Cherish for Years to Come
Introducing the smoothest, most luxurious carpet available. Only Tigressa Cherish offers a satiny, smooth feel combined with all of the high-performance features you'd expect from the finest nylon carpet on the market today.
TigressaCherish carpet is:
Crafted from the new generation of Type 6 nylon for extraordinary softness and durability.
Made with the finest denier fiber, with thousands of micro strands per square inch for luxurious and plush softness.
Available in a rich palette of color options with inspiration drawn directly from nature.
Visit us today to see and feel Tigressa Cherish, a carpet so soft, so smooth, so beautiful, you'll cherish it for years to come.
Finest Fiber
The smoothest, most luxurious nylon carpet available with fibers that are 75% finer than other soft carpets.
Colorfast
Won't lose its color. Its fibers are specially developed to trap color so your carpet will not fade over time.
Recycled
Crafted from recycled resources and can be renewed in the future as well.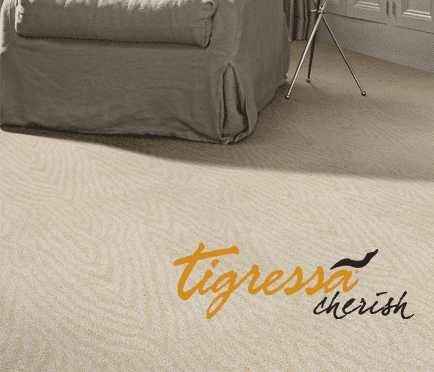 Everybody's Roaring About Tigressa SoftStyle Carpet
Are you looking for a luxuriously soft carpet that offers ultimate comfort and style? But also want exceptional strength and durablility for long-term wear? Your hunt for the softer, stronger carpet is over.
Tigressa SoftStyle carpet features:
Advanced engineering for a ultra-soft touch and smooth appearance.
Dense fibers for extraordinary durability.
Special manufacturing techniques that make it an eco-friendly flooring option.
Visit us today to see, touch and feel the Tigressa difference for yourself.
Softer
Precision-engineered, high-tensile filaments are half the size of a human hair for ultra-soft texture.
Stronger
More filaments per square inch spread out daily abuse over more individual fibers.
Greener
Made from Nylon 6 fibers which can be recycled over and over again.

Call to schedule your free, no-obligation room measure or click here.